Ohio Valley Keyword, Research
How many of you are from the Ohio Valley? Many of you answered 'yes' with your inner voice. Now ask yourself (with your inner voice, of course) - where exactly is "The Ohio Valley"? Where is the imaginary border? How did this become part of vernacular? Does anyone ever use the keywords - Ohio Valley - when searching online?
Not the Only Ohio Valley
It's no surprise that wrestling enters the story. I first learned that there was another Ohio Valley because of a wrestling promotion based out of Kentucky. When I was 16, I researched wrestling training facilities and was super excited with OVW (Ohio Valley Wrestling) came up. I thought I would be able to train and only travel minutes away. Obviously, I wasn't aware of the Southwest Ohio Valley.
When you search on Google for "Ohio Valley", you find a hodgepodge of information. You would think someone would have a decent Wiki about our collective area. Instead, we have several articles referencing the Ohio River Valley and some history about the French-Indian War. Turns out anyone bordering the Ohio River has the collective right to call their 'area' the Ohio Valley.
Let's Claim the Ohio Valley for Wheeling-Steubenville
I see an opening. All of the search results seem to be pretty lame and generic. I don't think the others (so-called Ohio Valleys) care much about the title. Certainly they aren't writing about it on the web - so I say we claim it.
The best way to claim the land is to own the search results. To own the search results, we must take the keywords. For us to capture the keywords, we must do some research.
What Ohio Valley Keywords Do We Want?
One of the first things we need to figure out is the intent of our search. Sometimes we just want to own the keywords that lead to a direct sale. Other times you want to display your page when someone asks for directions. In this case, we want to rank for everything 'Ohio Valley'.
Keyword Research - Customer Intent
Every search has a reason. Most of the time the user wants to do one of the following:
To take it a little further, we can break it up into Informational, Navigational, Transactional, and Commercial Investigation.
Informational Intent
Are you searching for some answers? Maybe you want to know "What zip codes are in the Ohio Valley?".
Navigational Intent
You ever type "Facebook" in the Google search bar instead of the browser. Navigational searches are really just direct traffic in disguise. The user knows where they want to go but just didn't have the address.
Transactional Intent
If you wanted to buy an Ohio Valley T-Shirt, you would fall into the transactional category. Maybe you want to book a hotel in the Ohio Valley or want to get a quote for a website - these searches all qualify.
Commercial Investigation
Commercial Investigation is usually the heartbeat of content marketing. When a user needs details about a topic, they usually land on a blog and do some reading. When I ask - "why is it called the Ohio Valley?", I am doing some commercial Investigation.
What Keywords Are People Using to Search?
When I started doing keyword research for clients, I often added locations to the beginning or end of the query string.
Best Web Designers Wheeling
Wheeling SEO companies
After a little more training, I realized this isn't necessary. The search engine has a good idea of where you are located. They can track the IP address or even GPS on your phone. They will serve you relevant results based on your location.
This doesn't mean people stop typing in locations. Those that turn off location, cookies, and other tracking devices still might want more relevant searches. Others might actually be miles away and looking for something location-specific. Locations and the "near me" keywords are still relevant for some searches.
Ohio Valley Search Terms and Keyword Tools
Google has a pretty good idea of cities, counties, countries, and zip codes. I am not 100% if they actually have a list of pseudo-location-names in their database/algorithm.
Does typing Ohio Valley after a keyword actually display results relevant by the location?
Let's test it out.
Google Ads Keyword Planner - "Ohio Valley" in Wheeling-Steubenville DMA
A real quick search using Google Ads Keyword Planner tool indicates that there are very few suggestions on just the term "Ohio Valley". This shows that not many people are using that as their ~location~ add-on.
I expanded our search to the United States and we received a few different suggestions, but still topped out at 32 suggestions.
Google Autocomplete
This method isn't 100% foolproof but why not give it a try... I opened up a pretty discreet Google Chrome Browser profile and started the Google Autocomplete test.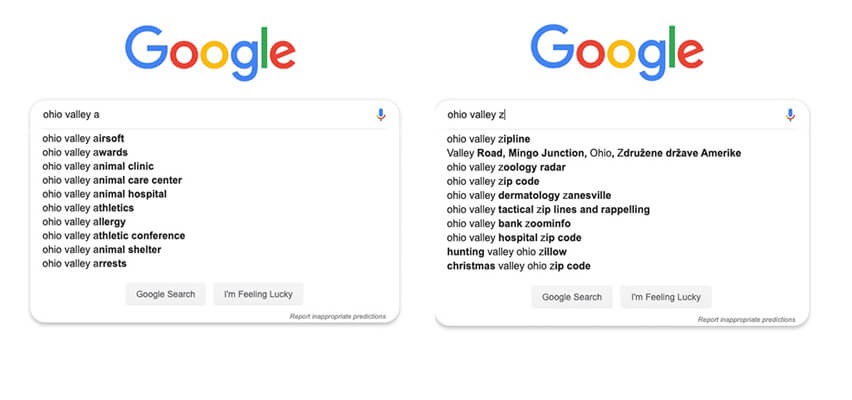 The autocorrect doesn't lie. People are using search terms. Mostly to find brands and business names. Is that because I started with Ohio Valley? Let's see what happens when I try the business category first. Let's try a very popular category: attorneys.
The result: not great.
I had to type "attorneys ohio val" before it finally finished the statement. There were no other results. Just one.
I tried "Ohio Valley Attorneys" and we had plenty of results and autocompletes.
Answer the Public
Let's cut to the chase and have someone else do the heavy lifting on Ohio Valley keywords. If you want to get an entire list of autocompletes, head over to answerthepublic.com. For a small fee, you get all types of tasty keyword data.
Ubersuggest
Another tool you could use is Ubersuggest.io. Not sure who Neil Patel is, but he runs a nice little website. This website can give you keyword suggestions, top SEO pages, and more.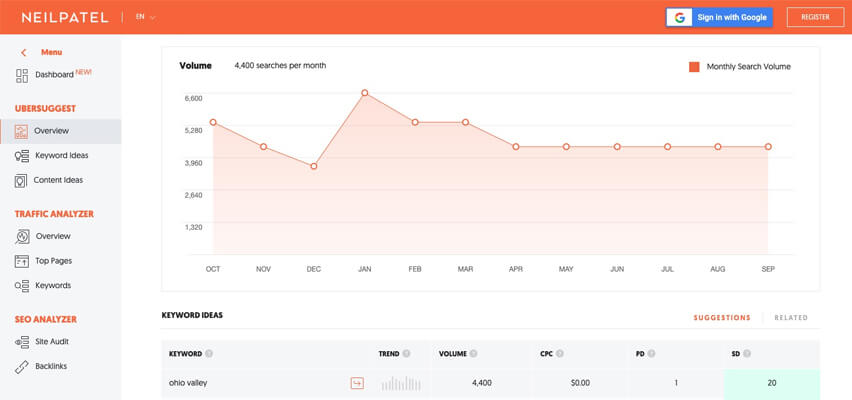 More Tools To Use
There are more tools you can use to determine keywords. In this scenario, I found what I was looking for. But if you are not trying to find "Ohio Valley" related words, give these tools a try:
What Ohio Valley Keyword Do We Want to Own?
We did some research. I would love "our" Ohio Valley to own them all. But, let's not be greedy. Ideally, I would love to own the MASTER keyword - "Ohio Valley", but I also have my eyes on some long-tail keywords.
Short Tail Keywords
Keywords come in many shapes and sizes. Most of the time we start with a very basic keyword or term.
Ohio Valley
This term is very vague and can return all types of answers. These types of words are short-tail keywords. They usually indicate the user is at the very beginning of the buying journey or research phase. Often they lead to another search with, you guessed it, the long-tail keyword.
Long-Tail Keywords
When you are looking for an Ohio Valley Web Designer, you might start simple. You find several sites but no one is listing prices. You search:
Ohio Valley Web Design Prices
You might get a series of results. You might like what you see or you might dig a little deeper. Maybe you start asking real-life questions.
How much does it cost to get a website made?
These questions/terms make up our beloved long-tail keywords.
Our Goals
Ohio Valley - short tail goal
This keyword might be tough to grab, but we can do it. Someone locally can whip up a Wikipedia page or make a dedicated blog. When the top result is some radio station talking about what meteorologists mean when they say "Ohio Valley", we can take this!
Where is the Ohio Valley? - long-tail goal
This might not be the most profitable keyword in the world, but this would sticking a flag in the ground and declaring us the winner. All we need is a dedicated page with a map and a huge circle around the Wheeling-DMA! What bigtime Ohio Valley website wants to lend their domain authority to the cause?! I'm looking at you WTRF.
Owning the Keywords and Owning the Ohio Valley
This article is long enough. Many of you probably skimmed the images and titles. That's pretty much how we all read, right?
The entire goal of owning these words comes down to search engine optimization. We have to create pages that prove you EAT (among a million other things).
E - Expert
A - Authoritative
T - Trustworthy
Google and search engines want to rank sites that prove you know what you are talking about. They also can recommend you when others link to you because you know what you are talking about. Also important, people need to trust you.
How do you get this to happen? That's another story(s) and another blog(s).